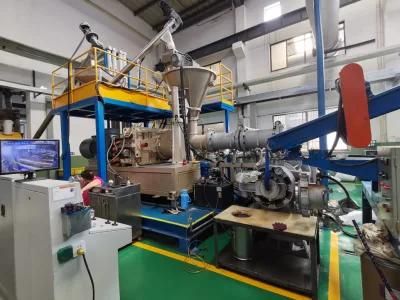 Model NO.:HT
Computerized:Computerized
Capacity:350-4000kg,H
Brand Name:Wintec
Motor Power:75-450kw
Transport Package:Plywood
Specification:CE
Trademark:B-TRUST
Origin:China
Production Capacity:350-4500kg,H
Specifictions of Planetary Roller Extruder
Configuration
Modle
Motor Power
Feed Motor Power
Rigid PVC Capacity
kg/h
Soft PVC Capacity
kg/h
HT140
75
0.75
350
350
HT150
90
1.1
500
400
HT170
132
7.5
650
500
HT190
160
7.5
1000
800
HT200
185
7.5
1200
1000
HT220
185
7.5
1300
1100
HT240
220
7.5
1600
1400
HT250
250
7.5
1800
1500
HT280
280
7.5
2000
1800
HT300
350
11
2500
2400
HT350
350
11
3000
2800
HT400
450
11
4500
4000
Application
Rigid PVC production line
PVC blist packaging films/PVC vacuum pressing films/PVC shrink films/PVC stretching films/PVC flooring films/PVC laminating films/PVC water cooling sheets


Semi-rigid PVC production line
PVC flex banner/PVC laminating films/PVC lamination films/PVC printing films/PVC flooring films/PVC bus advertizing film


Soft PVC production line
PVC table cloth/PVC leather sheets/PVC inflated films/PVC super clear films/PVC window cloth/PVC door cloth


Advantages:
Long service life
Perfect plasticizing & homogenizing quality
Electric power savings
Good Self-Cleaning screws
Short formula change times
Maximum CaCO3 /Filler plastification capacity
Low cost
Competitive Product quality
Why Choose HT Series Planetary Roller Extruder
1. We are committed to manufacture best quality planetary extruder. We have 26 years experience in developing and manufacturing planetary extruder, stable high qualtiy is always our weapon to win the market.
2. Your extruder is tailored by our research and development team to produce high standard products.